FAQ about Corrugated Cardboard Box Making Machine in Shengli
1.At what capacity you are representing the "Hebei Shengli carton Equipment Manufacturing Co., Ltd"?
I'm salesman in Hebei Shengli, I don't have the right to decide anything, but I can help you talk with our boss, I work at the office in factory, He just is at upstairs. I'm not middleman, direct salesman of Hebei Shengli, So I can't get commission from the deal.
2.Overall Ranking / Standing of your company in this field in China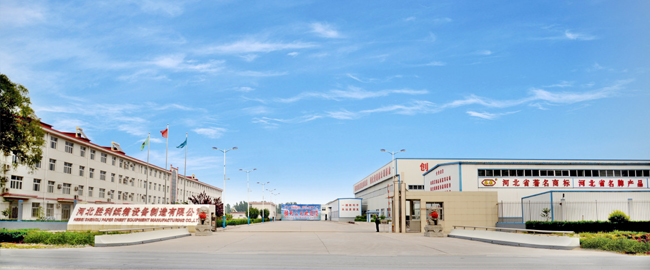 I must say Hebei Shengli is the biggest carton machine manufacturer in Hebei Province , But yes, we aren't the biggest and best in China. You know South China is more advanced than North China, we aren't as good as J.S Machine, Guangdong Dong Fang, which are listed company, And Fuli mentioned by your MD, I agree with him it's really more famous than us, But I need to remind, our quality is as same as their machine, our all core parts and electric components are from Taiwan, Shanghai, France etc which are famous brand. But in north China, the labor is cheap, so we can give you better discount than them.
Another advantage of Hebei Shengli, We started from Flexo Printer, and now we are the only one famous company which can supply both of flexo printer and corrugator in Hebei province. Our Flexo printer is the top one in North China as OEM of SUN Automation USA.
Yes,I agree we aren't the best corrugated machine manufacturer in China, can't supply you the most famous brand, But we can supply top quality with economic price.
3.Requires your' s company's profile with the list of your prominent buyers in last 4-5 years .
Hebei Shengli Carton Machinery Manufacturing Co., Ltd, was founded in 1985 to design and produce equipment for making carton boxes.
Shengli has significantly expanded to become a large business, owning three factories of a total area of 66,000 square meters and more than 300 employees. Talented engineers ensure we continually develop our products and an advanced CNC machining center and experienced operators
Imported spare parts and electrical components give each of our machines a long service life and our after-sales services include experience engineers who can install and repair machines in no time.
Customer List:
Gold Paper & Board Mills in Pakistan
Zohra & Sons Co.,Limited in Pakistan
Best Machine System in Korea
PAKISTAN PACKAGES (PVT) LTD
Coropex Pvt Ltd In Jaipur India
Fresh Electric For Home Appliances in Egypt
PackTech in Egypt
Master Pack in Uzbekistan
Minaye Packaging PLC In Ethiopia.
http://www.minayepackaging.com/
Hebei Zhenxing Steel Grating Co.,Ltd
They are the biggest Wire Mesh Manufacturer in China, and they have 7 ply corrugated line from Shengli, we can go there to check our machines running.
4.My MD has information that "Fuli" make cardboard boxes machineries are most reliable in China. We would like to have your views.
Yes, I already agree we aren't as famous as them, but we can good cost-effective machine for you. The most important thing: We can supply you complete Corrugated Box Making Solution, that means all the machines from paper reel to corrugated box you need : Corrugation line/flexo printing/die cutter/slotting machine/stapling machine/gluing machine/slitting creasing machine etc, expensive advanced auto machine or cheap simple manual machine, any machine you need you can find in our county which is packaging machine industrial zone 300 factories gather at here, and we are the biggest in our county.
5.We have 20000 M2 land available. We are absolutely new in this field. Could you pl. provide us a layout accommodating entire set up of corrugator and printing machines from sketch to finish with storage of raw materials and utilities etc. . We would like to have provision of same size corrugator line II , all internal transport to be on conveyors , 2 and 4 colour printers as case Makers and printing set up for PDQ's boxes.
Layout of corrugator and printer like these:
That's no problem for us, But you should visit our factory then decide what machines you need, after decision, we can supply you all the information you need.
The internal conveyor system we can help you find the supplier, that's no problem, but I need to remind your MD, the cost is very high, another client from India ask for this system, but at last they find it's not worth because of the cheap labor.
As I mentioned, we can supply all machines you need to set up new factory, because we already do this job for over 30 years.
6.In India lot of Cardboard industries have Chinese Corrugator with rollers from BHS and automation from Taiwan etc. Would we be having that flexibility of hybridization in your deliverables ?
Of course we can supply this flexibility for you, You can decide the brand of corrugated roller and Our rollers are from Shanghai RMM Company which is also one of best corrugated roller manufacturer, and automation from Taiwan, we already do that, all our electric components are from Delta, Fatek and Schneider from France, that's why I can say our quality is as good as Fuli, the core parts are from same famous brand.
7.What best tech. support you would be extending in installation , commissioning and operation ? Could we expect your back up for six months from commencement of operation ?
We will send engineers to install the corrugator in your factory, and teach your workers to operate machines, we can supply one year after-sale service including technology support, repairing, maintenance. But your company should pay the tickets and food for our engineers. And in the near future, we will supply maintenance and support each year for all clients in India.
8.Assurance on spare parts back up..
You already know we have agent in India, if you demand, we can store spare parts at there. And we will send some wearing parts with corrugator to your factory. And the normal standard parts like gears, bearings , bolts , motors etc you can find in local market. Any spare parts you need , we can supply all for you. Another Indian client just came to our factory asked for extra expansion plan.
9.We would like to Visit your machine manufacturing facilities and your supplied fully operational plants.. A team lead by our Managing Director may visit your plants .
That's my pleasure. We will welcome your team to our factory. If you want to check our machines, we can drive to the factory which run our machines already. But if you want to produce the sample for you, you should supply the printing plate for flexo printer. And please take some samples to China.
10.We intent to proceed fast . Pl suggest dates for visiting your sites.
We will start to work at 2017.2.6, so if your visa is ok , you can visit china at any time after this date. We will start holiday tomorrow, and we should stamp invitation for your visa, if you supply me the information if passport, you can process faster.