Cassette Single Facer for 2 Ply Corrugated Cardboard Fast Change Roller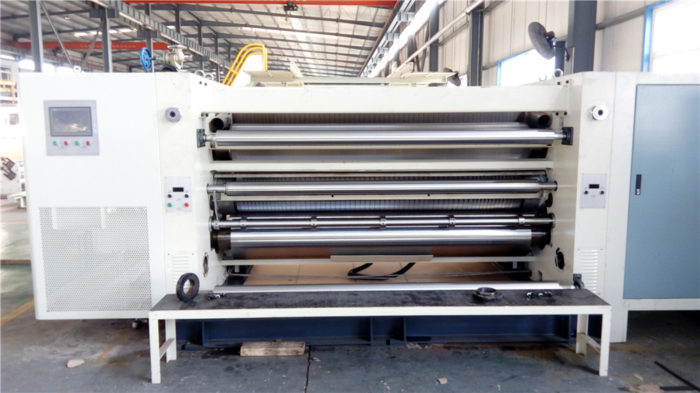 KSW Cassette Double Corrugated Rollers Fast Change Single Facer
One single facer is integrated with two groups of corrugated rollers in cassette, which can fast change another flute of corrugated rollers in one minute without stopping, and resume to produce in 2-3 minutes.
Upper and lower corrugated rollers are made of high quality chromium molybdenum alloy steel, and are through heat treatment to strengthen the hardness, the surface of corrugated rollers is through grinding and coated with tungsten carbide.
The diameter of corrugated rollers is 410mm, big and small roller design, two groups of corrugated rollers are installed in cassette which is installed at bottom of single facer , this design drops the center of gravity to reduce vibration and prevent sensitive resonance velocity. Cassettes can be changed in standard size without extra adjustment.
Unique vacuum suction design with negative pressure, clear the glue blocks automatically to prevent gas hole plugging and low noise.
Fast changing corrugated rollers in cassette, hydraulic trolley carries corrugated rollers cassette to single facer, reduce the time of changing job into 20 minutes.
Single facer is equipped with servo motor to rotate the cassette to change another group of corrugated rollers. No need to cut off liner during changing corrugated rollers.
Glue roller and doctor roller are design as group, move forward and back in horizontal direction by hydraulic, can move out together, easy to clear maintenance and repair. Electric adjustment of glue device, equipped with corrugating medium spray device.
The gap between glue roller and lower corrugated roller, pressure roller and lower corrugated roller are adjusted by electric motor Synchronously, and equipped with mechanical protection device.
Integrated with pre-heating cylinder which is rotating automatically driven by inverter motor, diameter is 600mm and equipped with electric wrap angle adjustment.
Amount of glue can be adjusted by computer or manual. Input the speed, quality of raw material etc factors into computer in advance on the touch screen, then the PLC can adjust the amount of glue reasonably to improve the quality of corrugated cardboard.
Driven by standard frequency conversion gear motor and universal joint, main drive motor adopts high efficiency frequency motor to save energy.
Upper corrugated roller and pressure roller lifting up and down, glue unit moving are controlled by hydraulic device.
Glue roller, doctor roller, pre-heating roller and other paper guiding rollers surface are through hard chromed, grinding and polishing treatment.
Electric eye tracking device is optional, glue roller can move out automatically when paper is broken.
Max speed : 300m/min, width of paperboard:2000-2800mm.